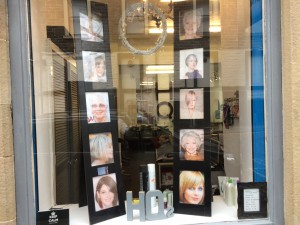 Ladies hairdressing is the main part of our service in our Dundee City Centre salon.
We are happy to give advice on all aspects of ladies hairdressing and have over half a century of combined salon experience with our stylists having seen just about everything that being a top stylist in a Dundee hairdressing salon can throw at you.
Whether its a new style or a colour change, or even if its just a simple tidy up, we are here to provide ladies in Dundee the best service and hairdressing experience available.
We incorporate modern technology by using Ipads to skim through hairstyles and find the best option for you as easily and as quickly as a click of a mouse.
Hair tinting is a major part of our salon work. Colouring can change your look without the need to lose length. We love to colour hair to enhance a style built around what will suit your skin tone and eye colour best. Ask us to show you a few options that can make you stand out from the crowd.
We also offer colour correction and colour repair services for any women who have a hair colour that needs a bit of TLC and balancing. We also offer a free colour strand test to cut out any guesswork. Call in to let us see what can be done. Hair colour in Dundee should be fun and the colours should always be lovely.